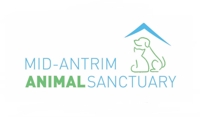 Mid Antrim Animal Sanctuary
Since we opened in April 1996 we have found caring homes for an average of 20 animals each week (over 7000 to date). They come from many sources; some are abandoned, others come to us because their owners have to go into care, some due to marital breakups, moving abroad, and others are unclaimed animals from pounds throughout Northern Ireland.
We accept as many as possible, but as we have a strict NO KILL policy, our kennels are always full – over 70 dogs and 60 cats, as well as unwanted litters of puppies and kittens and various other small animals. They are secure in the sanctuary until another home is found.
Registered Charity No. XR12834