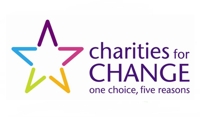 Charities for Change
Which charitable cause deserves your support?
Are you torn between helping to fight cancer and supporting some of the world's poorest, reaching out to deaf and disadvantaged children, or preventing cruelty to animals? Now you don't have to because Charities for CHANGE offers you the chance to support five fantastic charities with a single monthly gift.
Charities for CHANGE is a unique group of charities, united in our mission to achieve positive change in the world.
It's simple – make a tax-free donation from your salary to Charities for CHANGE and your single donation will be divided equally every month between…
Breast Cancer Now – We believe in a future free from the fear of breast cancer
The Children's Society – Committed to making childhood better for all children in the UK
Action on Hearing Loss – we are working for a world where hearing loss doesn't limit or label people, where tinnitus is silenced – and where people value and look after their hearing.
WaterAid – WaterAid's vision is of a world where everyone has access to safe water and sanitation
RSPCA – We're working for a world in which all humans respect and live in harmony with all other members of the animal kingdom.

With your support we can help a wide range of different causes, united in our mission to achieve positive change in the world. One choice, five great reasons to support us.