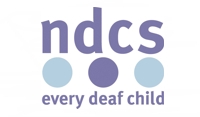 National Deaf Children's Society
The National Deaf Children's Society (NDCS) is the only charity in the UK dedicated to supporting deaf children and young people to have a brighter future. There are 45,000 deaf children in the UK and NDCS works closely with deaf children and their families' right from diagnosis throughout their childhood and teenage years to help them reach their full potential.
We believe that every deaf child should have the same opportunities as any other child and if diagnosed early, there is no evidence to suggest that they could not achieve the same as their hearing peers. 8 out of 10 children will experience temporary hearing loss at least once due to conditions such as glue ear.
We are here to make sure that every deaf child has the help and support they need.
Registered Charity No. England & Wales (1016532) & Scotland (SC040779)