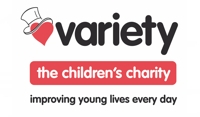 Variety
Variety, the Children's Charity gives children who are sick, disabled and disadvantaged across the UK to live enriched, independent lives.
Variety provides both practical help and memorable childhood experiences by providing Sunshine coaches and wheelchairs, specialist equipment making life a little easier for children with a severe disability including hoists, feeding tubes, special car seats, sensory toys and communication aids.
We support community groups and youth clubs offering disadvantaged children activities which help prevent anti social behaviour and through our Variety in Action programme give thousands of children the chance to enjoy fun and educational trips to theme parks, farms and museums.
Registered Charity No. 209259