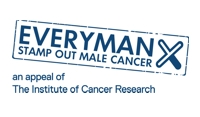 Everyman Appeal
The Everyman Appeal is a fundraising campaign set up by and in aid of The Institute of Cancer Research (ICR) to further our research into male-specific cancers.
Every year some 10,000 men lose their lives to prostate cancer and over 2,000 others have their world turned upside down by a diagnosis of testicular cancer. These men are the reason why we established the Everyman Appeal in 1997 and they're the reason we're still fundraising for male-specific cancers today.
The Everyman Appeal has been a huge success. It has so far raised over £10 million to support the work of the ICR's scientists in investigating the causes of these diseases, and developing treatments and better methods of diagnosis. By supporting the Everyman Appeal you will help the ICR continue this work and make a real impact on cancer patients' lives.