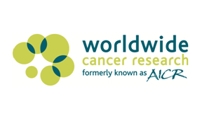 Worldwide Cancer Research SC022918    
Worldwide Cancer Research funds research into all types of cancer anywhere in the world. For over 30 years we have built a reputation for funding pioneering research into any cancer type and we have contributed to some significant breakthroughs. This worldwide research enhances our understanding of cancer and helps us improve survival for everyone. We believe we will, with the right research, one day see no life cut short by cancer.
whatever it takes,
wherever it takes us.
Registered Charity No. SC022918