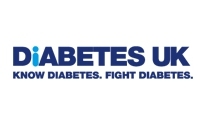 Diabetes-UK
Diabetes is hard. Hard to explain. Hard to manage.
Hard to live with. We're here to make it easier.

We are the UK's leading charity for people with
or at risk of diabetes and its largest charitable funder of pioneering diabetes research. One day our relentless
search for a cure will end, but until then we'll keep providing vital advice, information and support services, bringing people with diabetes together and campaigning on the issues that are most important to them.

Since 1996, the number of people with diabetes in the UK has more than doubled from 1.4 million to 3.8 million. If nothing changes, by 2025 five million of us will have diabetes. Diabetes is the fastest growing health threat of our times and an urgent public health issue.

Diabetes is far more serious than people think and can have a life-limiting or life-threatening impact on your health if it's not managed well. It can make you go blind or lose a limb, cause your kidneys to fail or trigger a heart attack or stroke. In the worst cases, it can kill you.
Registered Charity No. 215199