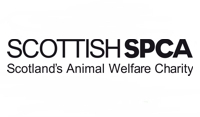 The Scottish SPCA is Scotland's animal welfare charity. Our objectives are to prevent cruelty to animals and encourage kindness and humanity in their treatment.
Our inspectors and animal rescue officers save thousands of domestic, farm and wild animals from harm and danger every year, while our vets and staff in our wildlife and animal rescue and rehoming centres look after, rehabilitate and rehome thousands more.
We offer our free Prevention through Education programme to every primary school in Scotland, encouraging children to treat animals with the compassion and respect they deserve.
As an animal welfare charity, we receive no government or lottery funding and rely on public donations to continue our vital work rescuing and rehoming Scotland's abandoned, neglected and defenceless animals.
Registered Charity No. SC 006467