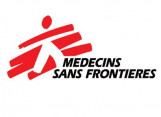 Médecins Sans Frontières/Doctors Without Borders (MSF) is an independent international medical humanitarian organisation that delivers emergency aid in more than 60 countries. MSF has been working in conflict zones since our founding in 1971. From paediatric nurses to off-road drivers, our experienced staff are responding to complex and fast-moving humanitarian emergencies across 72 countries, including high-insecurity environments. We think fast, act fast and adapt to save lives.
MSF teams are working around the clock and across the globe in dangerous conflict zones.
We triage trauma patients, carry out emergency surgery and deliver mental health support for people caught in airstrikes, shootings and indiscriminate attacks. But violence isn't the only threat to life.
Conflict cripples a healthcare system, cutting people off from the vital services they need – medication for a chronic illness, vaccination against a childhood virus, maternity care for a young mother.
Registered Charity No. 1026588