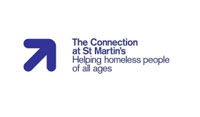 Connection at St Martin's
The Connection at St Martin\'s is open every day of the week for homeless people of all ages. Services include streetwork, two day centres, a night centre, advice, clinics, resettlement, arts, training.
130 staff and 250 volunteers help 7,500 people every year to rebuild their lives away from the streets. Annual costs are £3.8m.