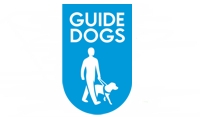 We provide mobility and freedom to blind and partially sighted people. We also campaign for the rights of people with visual impairment, educate the public about eye care and fund eye disease research.
We have been expertly breeding and training guide dogs for more than 75 years, providing many thousands to blind and partially-sighted people of all ages and from all walks of life.
We also deliver confidence-building rehabilitation services to adults, young people and children - including long cane mobility training and communication and daily living skills.

Registered Charity No. England and Wales (209617) and Scotland (SC038979)