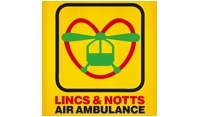 The Lincs & Notts Air Ambulance is a dedicated Helicopter Emergency Medical Service.
The service is funded by charitable donations. We first began flying operations in Lincolnshire in April 1994. In 1997 we started flying in Nottinghamshire too.
Our helicopter can reach any point in the two counties in less than 20 minutes and on average can transfer a patient to hospital within 8 minutes.
Each mission costs over £2000 and we fly at least 3 per day, every day. Each year we need to raise £2.2M to keep flying and saving lives. Recently we've announced that in the summer of 2016 we'll be leasing a new helicopter; the AW169. There's lots to plan and organise. We'll keep you up to date on here.
We're based at RAF Waddington, south of Lincoln. This base is unaffected by road congestion, country roads, heavy vehicles or road works. Our Helicopter, affectionately known as our 'Ambucopter', is fully equipped for almost any medical emergency. It is permanently staffed by two paramedics and occasionally a doctor.
Every year we fly approximately 1,000 missions. Each year the generous people of Lincolnshire and Nottinghamshire help us raise the money to do this!
Please continue to spread the word, organise fundraisers, play our lottery, volunteer your time and donate to our 14 charity shops across the counties. Together we can keep this vital lifesaving service operating for many years to come.
Registered Charity No. 1017501