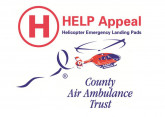 In an emergency, when time is of the essence, being able to land an Air Ambulance seconds away from specialist care, is crucial. For many patients, a helipad could represent the difference between life and death.
The HELP Appeal is here to provide funding towards the most appropriate base infrastructure, where and when it's needed.
And that's how we are playing our important part in helping to save lives.
Registered Charity No. England and Wales (1057063) Scotland (SCO45963)