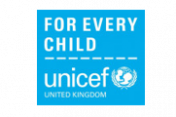 UNICEF
Unicef UK
We'll do whatever it takes to reach children in danger
We live in a dangerous world. Every day children face violence, disease and hunger. They are battered by the chaos of war and disaster and forced to flee their homes. They are denied an education.
With the support of people like you we have saved millions of children's lives. Unicef work in over 190 countries, ensuring more of the world's children are vaccinated, educated and protected than any other organisation. We have done more to influence laws and policies to help protect children than anyone else. We respond to humanitarian emergencies rapidly and stay as long as we're needed.
Unicef was created in 1946 to help protect children after World War Two and the United Nations Convention on the Rights of the Child is the basis of all of our work.
For over 70 years we have been there for children in danger. We won't stop until the world is safe for every child.
When you set up a regular donation to Unicef UK you become part of our long-term work to keep the world's most vulnerable children safe. Here are some examples of what we can do with your donation:
· Each month, your £55 could help to train a health worker to provide life-saving care for children
· Each month, your £30 could help give a midwife everything they need to deliver 12 babies safely
· Each month, your £14 could help protect 100 children from polio
Registered Charity No. 1072612