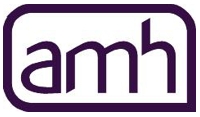 Action Mental Health changes the lives of those living with mental ill health and promotes resilience and well-being to future generations.
Founded in 1963, Action Mental Health (AMH) is a local charity which works to enhance the quality of life and the employability of people with mental health needs or a learning disability in Northern Ireland.
We provide our clients with many opportunities, encouraging them to adopt healthier lifestyles and to widen their social networks. We also provide them with the skills to build a better future, set personal goals, develop coping skills, re-engage with society and become more employable.
Registered Charity No. NIC1000753