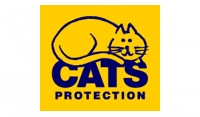 Cats Protection
Cats Protection is the UK's leading cat welfare charity, helping around 200,000 cats and kittens each year. We care for abandoned, unwanted and neglected cats and kittens, providing them with the food, shelter and veterinary treatment they need until we are able to find them loving new homes.
We also tackle the challenging issue of controlling the population of unwanted cats in the UK through our neutering work, as well as promoting the importance of good cat welfare through our campaigning and education programmes.
COVID-19 has had a major impact on our work but we continue to do all we can to care for cats while also protecting our team, employees and volunteers alike. Sadly, we expect that the impact of the crisis is likely to mean many more cats needing our help in the future. With neutering still limited across the UK and with so many people facing life-changing circumstances, we will need to take care of thousands of cats and kittens in 2021 and beyond.
You can help support our work by making a regular donation through your pay – a monthly donation of £10 could provide food for one day for 50 cats in our care, or over the year your £120 donation could help us microchip 24 cats in our care.
Registered Charity No. 203644 (England and Wales) and SC037711 (Scotland)