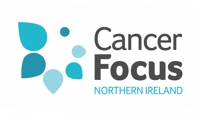 Cancer Focus Northern Ireland is working to reduce the impact of cancer in Northern Ireland.
Over 3,600 people die from cancer every year in Northern Ireland.
1 in 3 local people will develop some form of cancer.
Thanks to earlier diagnosis and improved treatments, more & more people are surviving cancer.
There are currently 39,000 people in Northern Ireland living with cancer.
Your donations will fight cancer in Northern Ireland by:
Providing care for local cancer patients and their families.
Funding local, cutting edge research to improve treatments for cancer patients.
Reducing the risk of cancer and promoting early diagnosis by providing education and awareness programmes.
Registered Charity No. NIC101307