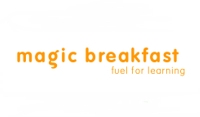 Every school day, we provide free, nutritious breakfast food (bagels, porridge, orange juice and cereals) to 6,000 children in 200 primary schools. Why? Because in each one of those schools, many children arrive at school too hungry to learn.
Magic Breakfast is a UK charity (registration number 1102510), dedicated to ensuring every child starts the day with the right breakfast as fuel for learning.
Magic Breakfast believes no child's education should suffer for the lack of a breakfast.
Registered Charity No. 1102510