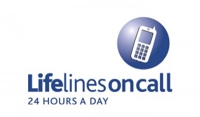 Lifelines on Call was formed to make your donations go further - to save, support and rescue those in distress. Every day the Fire Fighters Charity, Samaritans and the Royal National Lifeboat Institution (RNLI) make a difference to someone's life. We are always there, on call 24 hours a day.
By donating to Lifelines on Call from your salary you are supporting three charities equally and making a real difference to people that need help from our organisations. Thank you for your support.
We save lives, 24 hours a day, 7 days a week, 365 days a year. Samaritans receive 5 million contacts annually.
People contact Samaritans for many reasons: relationship problems, health worries, financial problems, stress at work, loneliness and bereavement. Our volunteers are trained to talk about anything to anyone in confidence. 1 in 8 of our contacts are in financial distress (up from 1 in 10 in December).
Each year, thousands of fire fighters are injured whilst protecting the public. Every 30 seconds in the UK fire fighters are called to an incident, risking their lives to save others, but sadly they often sustain physical injuries whilst carrying out their duties.
The Fire Fighters Charity is here for fire fighters during their times of need, providing vital support services across the UK for all fire fighters.
The Royal National Lifeboat Institution is the charity that saves lives at sea. We provide, on call, a 24-hour search and rescue service around the coast of the United Kingdom and Republic of Ireland and a seasonal lifeguard service on beaches in England and Wales.
Last year was the RNLI's busiest year on record and on average we rescued 23 people every day. The RNLI is independent from Government and we need your support to train and equip our volunteer crews, helping bring them safely home to their families.