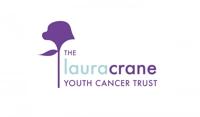 Laura-Crane-Youth-Cancer-Trust
The Laura Crane Youth Cancer Trust is the only UK charity funding medical research specifically into cancer affecting teenagers and young adults, where it can frequently strike in dangerous and complex forms. The Trust also funds measures to improve the quality of life for young cancer patients, both during and in the aftermath of their illnesses. Support is offered to all of the hospitals throughout the UK which treat teenage cancer (currently just 38).
Before the LCYCT was founded in 1996 there was no fund aimed specifically for research into cancer in 13-24 year olds. Research from the funds we raise will bring increased understanding of cancer in this age group, improved treatments and ultimately more young lives will be saved.
The Laura Crane Youth Cancer Trust supports measures to improve the quality of life for teenage cancer patients during their frequent and debilitating stays in hospitals. Teenagers are an age group onto themselves and require occupational and social activities to help keep up their motivation, which is so desperately needed to fight their illness and cope with the harsh regimes of treatment and the isolation from school, friends and family that it brings.
Registered Charity No. 1138003