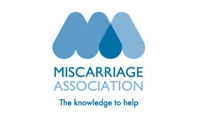 Miscarriage Association
An estimated one in four pregnancies ends in miscarriage. A further two percent of pregnancies are ectopic (growing in the wrong place) and another one in 600 are molar. For many women and their partners, these pregnancy losses, however early, represent the loss of a baby and they can be very unhappy, frightening and lonely experiences.
The Miscarriage Association acknowledges the distress associated with pregnancy loss and strives to make a difference for anyone it affects. We do this by:
Offering support and a listening ear, through a staffed helpline, online support, telephone volunteers and support groups
Providing clear and accurate information, through the helpline, on our website and in a range of leaflets
Promoting good practice in the way pregnancy loss is managed in hospitals and in the community.
Supporting research into the impact, causes, treatment and prevention of pregnancy loss
Raising public awareness about the facts and feelings of pregnancy loss and working to reduce the taboo
We help people through.
Registered Charity No. 1076829 (England & Wales), SC039790 (Scotland).