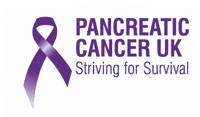 Pancreatic Cancer UK
Pancreatic cancer is the 5th most common cause of cancer in the UK, but it has the lowest survival rate of the 21 most common cancers.
Out of 100 patients diagnosed only four patients will survive for five years or more.
Pancreatic Cancer UK is here to change all of that.
Our vision is a long and good life for everyone diagnosed with pancreatic cancer. Pancreatic Cancer UK is the only national charity fighting pancreatic cancer on all fronts: Support, Information, Campaigning and Research.
Our flagship campaign, the Campaign for Hope has two simple goals; to double five-year survival rates within five years and change the experience of pancreatic cancer patients from one of the worst to one of the best. We work with MPs, Ministers, policy makers and health professionals to ensure that pancreatic cancer is high on the NHS agenda and we support people affected by pancreatic cancer to make their voice heard in parliament.
We provide hope by funding innovative research in to the causes of pancreatic cancer, better diagnosis and improved treatments. And we help people cope with a diagnosis by providing information and emotional support.
Your support could help us fund our vital work, to improve the lives of people with pancreatic cancer and their families.
Registered Charity No. 1112708