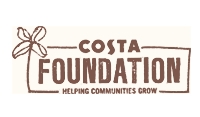 Costa-Foundation
The Costa Foundation has the strapline "Helping Communities Grow" – and aims to help coffee growing communities grow through education.

Mission
To improve the life chances of boys and girls in coffee growing communities by providing the opportunity of a safe, quality education.

Vision
To eradicate poverty in coffee growing communities
.
What is it?
It is a registered charity (charity number England and Wales 1147400 and Scotland SCO43414) set up in 2012.

Background and history
The Costa Foundation originally started in 2007 operating under the charitable status of Charities Trust, which was already a registered charity. From 2007 until 2012; Charities Trust handled the administration and finance of the Costa Foundation. This arrangement allowed the Costa Foundation in its early stage; to minimise overhead costs and enabled the management team to concentrate on determining which projects to support and to get behind their people's fundraising efforts.
Registered Charity No. 1147400