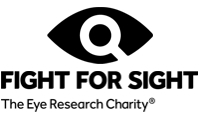 Fight For Sight
Fight for Sight is the main charity in the UK dedicated to funding pioneering research to prevent sight loss and treat eye disease. Over the next few years our aim is to commit £20 million to a research programme covering eye conditions such as age-related macular degeneration, glaucoma, diabetic retinopathy, trachoma, cataract as well as the causes of childhood blindness. We also fund research into a number of rare eye diseases.
100 people every day start to lose their sight in the UK, and while blindness may not kill, it has a profound impact on quality of life. It means not being able to read or look at photos. It means not being able to see loved ones or the world at large and it can mean losing independence and perhaps livelihood.
Yet eye research is severely underfunded, because killer diseases win the fight for government and charity funding. Fight for Sight relies solely on voluntary income, so your support is vital to help make sight loss a thing of the past.
Registered Charity No. 1111438