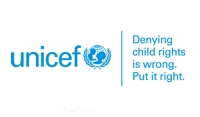 UNICEF
UNICEF works with families, communities and governments in more than 190 countries to transform children's lives by protecting and promoting their rights to education, health, childhood, to be treated fairly and to be heard.
UNICEF has more than 60 years' experience working for children. On the ground we distribute life-saving supplies such as water kits and mosquito nets, and provide support and training. We create opportunities for young people to participate and make their voices heard. We use our influence at the highest levels of government to ensure that laws and policies work in the best interests of children.
UNICEF receives no funding from the UN budget. We are funded entirely by voluntary contributions and are only able to carry out our vital work thanks to the contributions of our supporters.
Registered Charity No. 1072612