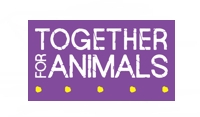 Together-For-Animals
Together for Animals is a group of five charities, all working to save animals in need throughout the UK and in some of the world's poorest communities.
Each donation we receive is distributed equally to all five member charities, making it a unique way of supporting a range of charities helping thousands of animals in desperate need of our help.
Our member charities are the Animal Health Trust, Blue Cross, The Mayhew Animal Home, SPANA and World Horse Welfare and here are some of the things they do:
Rescue and rehome unwanted pets
Treat sick and injured animals
Provide education and awareness programmes

Work to eliminate disease, a major cause of animal suffering.
Registered Charity No. 1102985