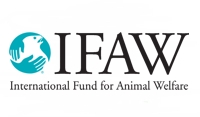 IFAW UK
You love animals, we save them.
IFAW works tirelessly to save and protect individual animals and entire animal populations from cruelty, suffering and exploitation. We provide critical veterinary care to cats and dogs in some of the world's poorest communities, protect elephants and tigers from poachers, campaign to end the commercial hunting of seals and whales, and rescue animals in the wake of natural and man-made disasters. Join us.
Help us save animals around the world.
IFAW UK is one of 15 IFAW offices performing critical animal welfare work in more than 40 countries.
Registered Charity No. 1024806