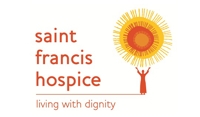 Saint Francis Hospice
SAINT FRANCIS HOSPICE is an independent charity and one of the largest adult hospices in the UK. We serve the population of Brentwood, Havering, Barking & Dagenham, Redbridge and West Essex. We are a large hospice, but our focus is on care of the individual, their family and those who care for them. All our services are provided free of charge to those using them.

Saint Francis Hospice has been embedded in our community for over 30 years and we are strongly reliant on voluntary income from many generous local individuals, organisations and businesses who fundraise for us or make donations.

We have to raise more than £7 million of our £10 million annual budget from voluntary sources and every donation is important to us. In addition, we have a skilled workforce including 800 volunteers who help to keep costs down and add huge value to what we do.
Registered Charity No. 275913