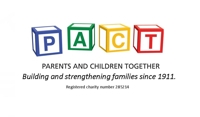 Parents and Children Together (PACT)285214
Parents and Children Together (PACT) has been supporting and strengthening families since 1911.
We provide community support to over 9,000 families every year through our projects across London and the Thames Valley such as children's centres and support for homeless families and those affected by domestic violence.
We are also a voluntary adoption charity and provide adoption and fostering services including support services provided by therapists experienced in adoption and permanence work.

PACT's aims are:
To improve the life chances of children, parents and individuals
To support and counsel parents in the choices they make for children
To provide a professional adoption, fostering and family support agency
Registered Charity No. 285214