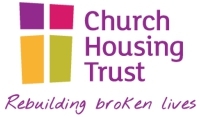 Church Homeless Trust
Church Housing Trust supports people who have been homeless, by funding the help they need to rebuild their lives. Our roots go back to 1882, when Revd Wilson Carlile began working with homeless people in central London. Today we help more than 4,500 people every year.
We do this by providing funding for clothes, training, travel, facilities, life skills and other personal support that helps people to become more confident and healthy. We also support their move to independent living with grants for basic furnishings and household essentials for their new homes.