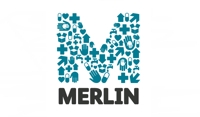 Merlin
Merlin is a specialist UK charity which responds worldwide with vital health care and medical relief for vulnerable people caught up in natural disasters, conflict, disease and health system collapse.
We were one of the few aid agencies given access by the government in Myanmar after Cyclone Nargis struck on May 3rd 2008 and our work there continues. Our teams of doctors, nurses and public health specialists don't stop working just because an emergency is over. They stay long after the cameras are gone; ensuring lasting health care services are rebuilt.
Merlin believes that everyone has a right to essential health care. We work with national health ministries to establish effective primary health services. We develop health policies, train medical staff, refurbish clinics and hospitals and lead health education programmes.
Registered Charity No. 1135111, 1016607