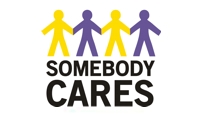 Somebody Cares
Somebody Cares – One donation, four charities, helping thousands - is a unique consortium of four very different charities (Addaction, Homeless Link, Prisoners Abroad and NAT) helping those affected by HIV/AIDS, substance misuse, homelessness and UK nationals imprisoned overseas.
From providing direct services to campaigning for change, we provide services to thousands so your donation helps in so many ways.
Be SOMEBODY who CARES – Thank You.