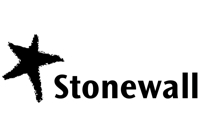 Stonewall
Our mission
We're here to let all lesbian, gay, bi and trans people, here and abroad, know they're not alone. We believe we're stronger united, so we partner...
Key priorities
To empower individuals Individuals make change happen. We will support individuals to work out how they can make a difference for LGBT people at work...
Stonewall's history
Stonewall was founded in 1989 by a small group of people who had been active in the struggle against Section 28 of the Local Government Act. Section...
Stonewall Financial Statements
The Stonewall trustees are delighted to present the financial statements for the year ended 30 September 2015. The financial statements comprise:...
Privacy policy
This privacy policy sets out how Stonewall uses and protects any information that you give Stonewall when you use this website. Stonewall is...
Registered Charity No. 1101255