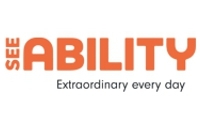 SeeAbility
SeeAbility is a UK charity that provides extraordinary support and champions better eye care for people with learning disabilities and autism, many of whom have sight loss.
We have one of the most comprehensive in-house teams of specialists in the country, which includes consultant behaviour analysts, speech and language therapists, physiotherapists, optometrists and vision rehabilitation workers. Our skilled support workers are all trained by the specialist team, applying their expertise in everyday situations so they have the skills needed to provide life-changing support. This means each person we support gets exactly the right kind of expert attention that they need when they need it.
We also share our expert knowledge proactively across the UK to raise awareness and increase access to eye care and vision services.
Your support means that you are helping people we support to overcome huge barriers, to achieve exciting new things every day: some big, some small, all extraordinary. You can learn more about our work at
www.seeability.org
Registered Charity No. 255913