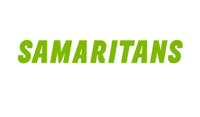 Samaritans
Life can be tough and any one of us can find ourselves struggling to cope at any point in our lives. That's why our volunteers are available round the clock, every single day of the year. People can talk to us any time they like, in their own way about whatever's getting to them.
Our service is run by over 20,000 volunteers based in 201 local branches across the UK and Ireland. In 2017, we responded to 5.4 million calls for help – that's one every 6 seconds. Through our work in communities, we've reached over half a million people.
For some, we're the only place they can turn to without fear of judgement. For others, who might worry about burdening friends and family, we're a safe place to turn when they're going through a difficult time.
We're a charity and it's the public's support that keeps our helpline open. It costs Samaritans £5 to be there for someone who is struggling to cope. Every donation helps us to be there for people who have nowhere else to turn.
Registered Charity No. 219432