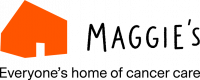 Maggies
Maggie's is about empowering people to live with, through and beyond cancer by bringing together professional help, communities of support and building design to create exceptional centres for cancer care.
Maggie's Centres are for anyone affected by cancer. They are places where people are welcome whenever they need us – from just being diagnosed, or undergoing treatment, to post-treatment, recurrence, end of life or in bereavement.

We also welcome family and friends, as they are often deeply affected by cancer too. We know that those who love and look after someone with cancer can feel just as frightened, vulnerable and uncertain.
Registered Charity No. SC024414