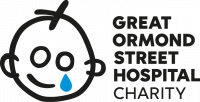 Great Ormond Street Hospital Childrens Charity
We need to raise £50 million every year to help rebuild and refurbish Great Ormond Street Hospital, buy vital equipment and fund pioneering research. With your help we provide world class care to our very ill children and their families.
These developments include contributing to the rebuilding and refurbishment of two thirds of the hospital and the Institute of Child Health. Funding the most up-to-date equipment and supporting the research into and development of new and better treatments and providing accommodation and other support services for families and staff.
Registered Charity No. 1160024