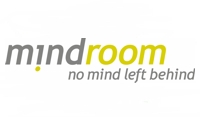 Mindroom
Mindroom is a small Scottish charity with a big vision - to ensure that by 2020, every child and adult with learning difficulties in this country will receive the recognition and help they need.
We do so by raising awareness, promoting understanding, knowledge and commitment amongst politicians, policymakers, professionals, parents, carer providers, and the UK population at large. We provide a dedicated one to one support service for families living with learning difficulties.
We offer high quality training, practical help and advice for individuals and organisations who work with people with learning difficulties.

Registered Charity No. SC030472